3 THINGS TO CONSIDER WHEN BUYING REAL MARBLES
Marbles are known as symbols of luxury. Here are 3 main factors that you need to consider before bringing a real marble home.
COST-RELATED
When planning to buy a real marble, it is important to reflect on the cost-related factor to meet your personal budget.
Installation cost: One of the reasons that make real marble expensive is the high installation cost due to its heavy weight and process. In addition, it requires professional workers who have experience in installing real marble flooring.
Purchase price: The cost of buying real marble flooring is higher than porcelain tile prices because it is made from natural materials that cannot be produced.
Replacement cost: The cost of replacing real marble can be quite expensive because it has to be done by professionals who have a lot of experience working with marble materials.
Maintenance cost: Despite its beauty, real marble also requires regular maintenance which will lead to a higher maintenance cost.
2. MAINTENANCE
Natural stone like real marble involves proper maintenance to retain its beauty.
Its porous surface is known for being prone to staining. Liquids tend to be quickly absorbed, making them vulnerable especially to acids. This will cause real marble to damage and discolour easily.
Another demerit of real marble is it instantly gets scratched due to the soft surface. Plus, the cracks are visible to the naked eye.
The only prevention is to seal the surface, besides periodic polishing and clean it immediately when there is any spill. This process will take additional energy and cost to maintain.
3. SIMILARITIES TO PORCELAIN
However, real marble can be replaced with porcelain tiles that have a marble look design (or known as marble tile). It shares almost similar functionality and is able to give an aesthetic look to the space.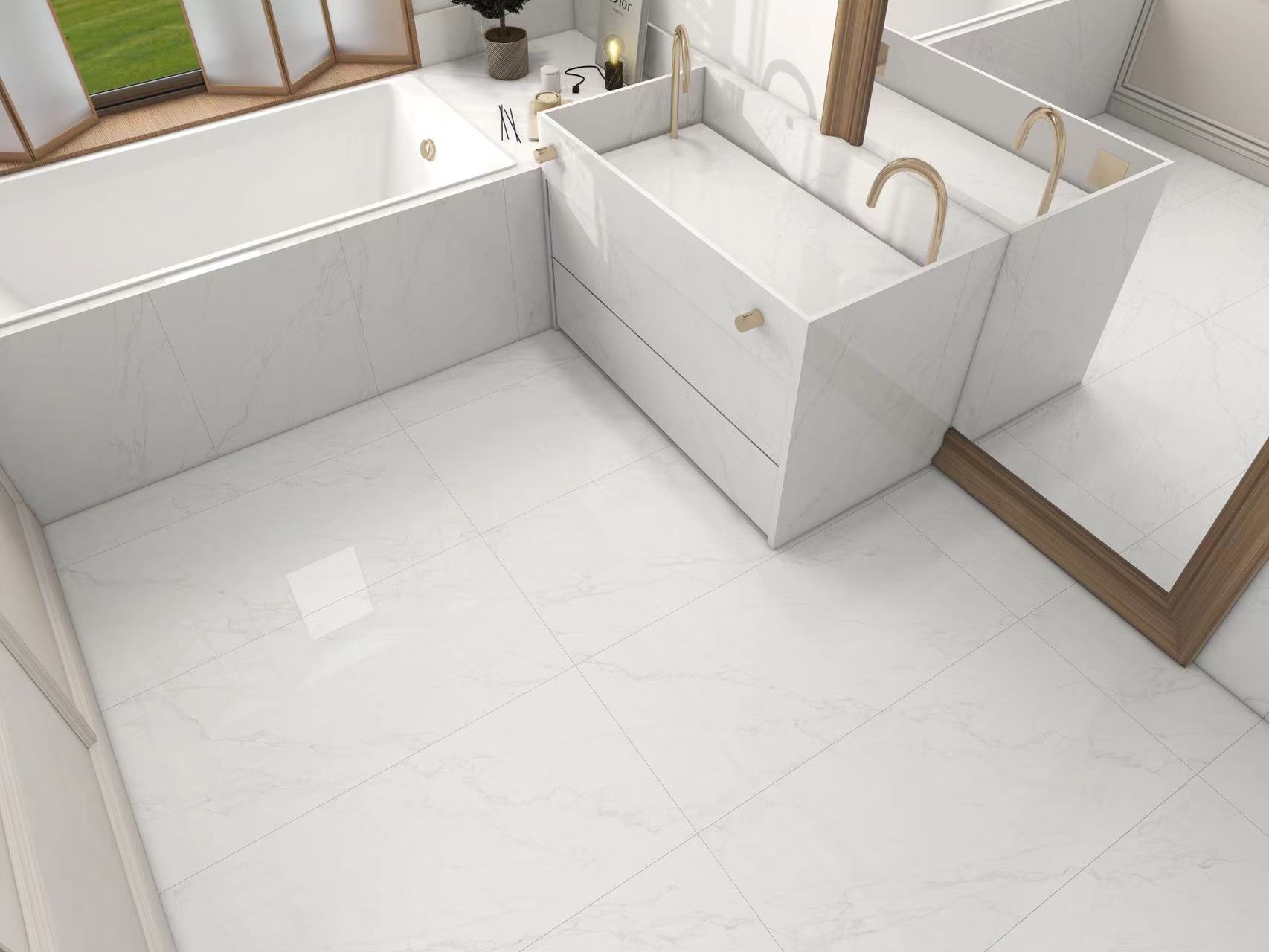 i. Functionality: Real marble is suitable to be installed on walls and floors. In contrast, the marble tiles have more function and can be used for a countertop, kitchen backsplash or even bathroom.
ii. Aesthetic look: Marble tile can replicate real marble's evergreen design. Inspired by real marble, you may browse a variety of popular designs such as Statuario, Carrara, Calacatta and more in Jubin Cantik.
Consider important factors such as lower cost-related, ease of installation and lesser maintenance needed in other materials before buying in comparison to real marble. Nevertheless, porcelain marble tile has the same function and aesthetically pleasing as real marble so you don't have to worry for your bathroom, backsplash or countertop. You don't have to spend more for luxurious look of marble after this!